What is open auto transport?
It's the standard, safe, method of local and nationwide auto transportation
Before we get into the details of open auto transportation, let's define some terms:
An auto transport trailer (or car carrier trailer) is a specific type of trailer that attaches to the back of a pickup truck or tractor unit. These specialized trailers are designed to conveniently carry multiple vehicles from one location to another, commonly over long distances. Also known as "car haulers", these awesome trailers offer an open or enclosed variation and can transport anywhere from 1 to 10 cars at a time.
The most common type of car shipping service is known as "open auto transport" which simply infers that the type of trailer being utilized is an open trailer and not enclosed.  In the next section, we'll cover the primary differences between open transport trailers and enclosed transport trailers.
Open transport vs. enclosed transport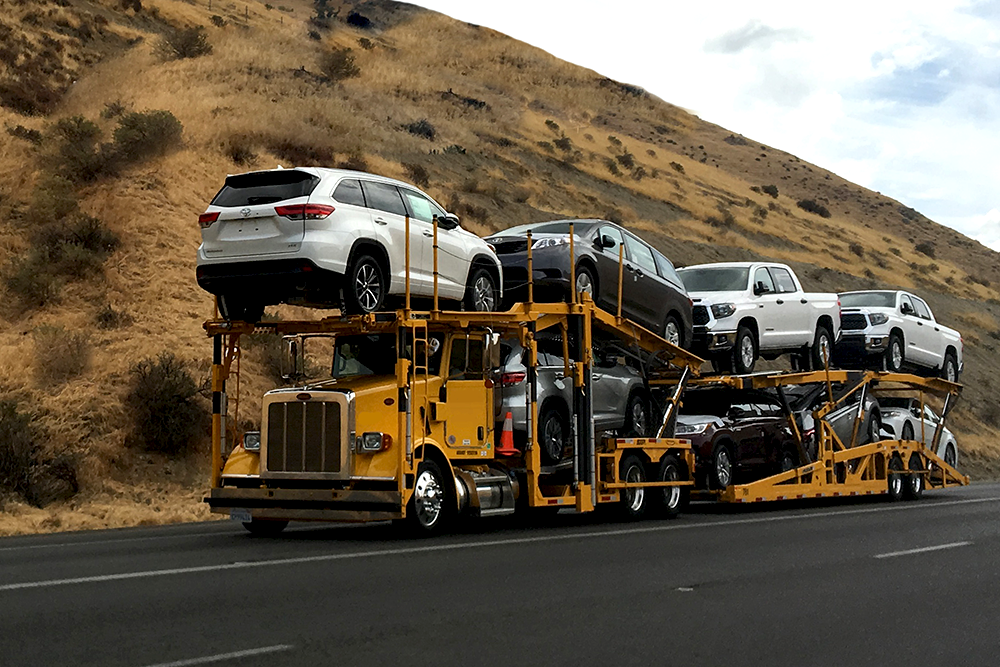 One distinct feature that separates open trailers from enclosed trailers is that on an open trailer a vehicle is not hidden from the elements. Contrariwise, a vehicle inside an enclosed trailer remains sheltered from the outside world during its transit. To state the obvious, shipping your vehicle enclosed will always be the safest way to transport it over long distances, but there is an important factor to consider: the difference in price.
In most instances, the determining factor of whether someone will ship open or enclosed will come down to rates, and because enclosed trailers are fewer and farther between in terms of availability, rates can sometimes be double that of open transport.
Therefore, if you're shipping on a budget, consider open transport as the more cost-effective option between the two trailer types. And there is no reason to ever think you're substituting safety for a lower price; although an enclosed trailer will provide maximum protection during transit, open transport trailers are also extremely safe in their own right.
The two types of open car haulers
Open car carriers can haul anywhere from 1 to 10 cars at a time, depending on the specific type of trailer used. The two most common trailers for open car transport are commercial trailers and hot shot trailers.
The main difference between a hotshot trailer and a commercial trailer is the number of vehicles they can carry. Hotshot trailers tend to carry anywhere from 1-5 vehicles and are pulled by heavy-duty pickup trucks. Larger tractor units pull heavier commercial trailers.
The different hauling capacities of these trailers will dictate the distances a trucking company wishes to cover. Smaller capacity trailers tend to stay within a thousand miles of their home base, but commercial trailers span distances from coast to coast.
Commercial trailers
Commercial car haulers have the capacity to carry 5-10 vehicles at a time and are the standard method of transport for long-distance moves. Individuals planning on shipping their vehicle to another state, even coast to coast, are assigned space on commercial haulers. Likewise, automobile dealerships taking delivery of new vehicle stock utilize commercial haulers due to their ability to haul up to 10 cars at a time.
Hotshot trailers
If you're planning on shipping a vehicle to a neighboring state, or even to a different city in the same state, chances are you'll be assigned a hotshot trailer. Since it's not economically viable for hotshot drivers to cover vast distances carrying only 1-5 cars, these smaller capacity trailers tend to venture within smaller radiuses. Getting space on a hotshot trailer often equates to lightning-speed pickup and delivery timeframes.
Benefits of open car transport
Flexible pickup and delivery schedules
Because open trailers are so readily available, the probability of getting a vehicle shipped in accordance with a strict schedule is high. Keep in mind, however, that the more flexible you are with your schedule the lower your transport rate will be.
Safer and cheaper than driving
When considering whether to drive your vehicle or have it professionally shipped, we encourage you to put pen to paper and take inventory of all expected costs and liabilities associated with either option. Expenses such as food, fuel, lodging, and the wear and tear on your vehicle can quickly add up.
Apart from the costs of travel, driving a vehicle over thousands of miles can be a task and a half. Carefully consider whether you're prepared to face the unforeseeable hazards of trekking the open road. If you find that you prefer your vehicle to be professionally transported than driving it yourself, or you're unsure of which option to choose, give us a call for a free consultation.
Included cargo insurance
For open transport trailers, cargo insurance ranges from $100,000 to $250,000 at no additional charge. Coverage begins when the auto transporter loads your vehicle onto (or into) the trailer and ends when your vehicle is offloaded at the destination. For maximum protection, we encourage you to ask your auto insurance provider whether your vehicle will be insured during transit. Being covered both by the transporter's cargo insurance and your own auto insurance is the optimal scenario and most often the case.  You can learn about the full scope of motor carrier cargo insurance mandates on the Electronic Code of Federal Regulations (eCFR) website by clicking here.
Tip: You can request your transport provider for proof of cargo insurance once you're assigned truck space.
Long distance services
An open trailer long-distance auto transport service is the most common type of service request in the car shipping industry.
Also known as "state-to-state transport", "long-distance transport" applies to coast-to-coast moves, shipping to a nearby state, or even transport to your neighboring state.
Here are the most popular reasons people request a long-distance car transport service:
Moving your household to another state
Sending a child to college
Transferring/moving for the military
Buying a vehicle from out of state
Receiving/sending a vehicle as a gift or inheritance
Shipping a vehicle home that broke down on a trip
Receiving a fleet of new cars for the dealership
Dealer trades
Moving from auctions to the dealer
Moving from the dealer to auctions
Transports to and from the port
How to get the lowest rate
Everyone wants great service at reasonable prices, and that's precisely what we offer. But if the current shipping rates are still a bit out of your budget, we may still be able to help. If you want the absolute, rock bottom, lowest possible rate for your auto transport, you will have to be extremely flexible with the pickup schedule. The wider the window you give us to schedule your pickup, the lower the price we'll get you.
Expedited services
Expedited services are available for customers needing their car shipped immediately. This service may cost more if we have to reroute a truck to your location. Albeit, if we have a truck close by, we won't charge an additional fee rush fee. Just make sure to have your vehicle prepared for pickup because a driver may be available immediately.
Shipping inoperable vehicles
We transport inoperable cars under certain conditions. If there's an available forklift at the pickup and dropoff location then the transport will be a breeze. If there is no forklift available, the vehicle must be accessible to the trucker in order to winch it up. Moreover, tires must be inflated and the car must be able to roll, steer, and brake. If your vehicle meets these criteria, then we'll easily ship it to your desired destination. If your vehicle falls outside of some of the conditions stated above, call us with the details and we'll see how we can help.
Get a quote for an open trailer move
Get a quote for an open trailer move
Need immediate assistance?